Clear Braces for Straight Teeth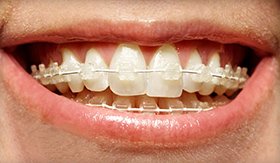 Have you ever wanted a lovely, straight teeth smile but didn't want to get metal braces? You've probably heard the horror stories of traditional braces–that they hurt, that they look unattractive and they take so long to obtain straight teeth. You want straight teeth but don't want to look silly or feel a lot of pain. This is understandable.
Our dentists at Dental Designs of Owensboro can offer you an alternate procedure we think you will love. It's called Six Months Smiles and they are clear braces similar to other alternative invisible braces. Six Months Smiles clear braces lead to straight teeth and was created with older teens and adults in mind, who want a pretty smile but don't have serious bite issues.
The Advantages of Six Month Smiles Clear Braces
Six Months Smiles clear braces takes—you guessed it—six months! Unlike traditional braces, this method to get straight teeth, works quickly and effectively.
Six Months Smiles clear braces uses a strong tooth-colored wire to straighten teeth. There are no brackets or individual wires to cut and scar your gums or the inside of your mouth. Also, the tooth-colored wire is almost invisible and is usually undetectable when you get your photo taken.
Six Months Smiles uses plastic brackets to straighten teeth. This means that there is no metal right next to your soft tissues to cut and scar.
The wire system puts consistent, slight pressure on your teeth to get the straight teeth you've wanted. No painful, jarring wire tightening like traditional braces use.
Six Months Smiles clear braces only works on the teeth that are visible when you smile. This means you have a lovely smile in a short amount of time.
Six Months Smiles is perfect for older teens or adults who are concerned about how they will look with braces. Six Months Smiles clear braces to straighten teeth are practically invisible and since they take such a short amount of time, it's a quick, but remarkably effective fix for people who want a straight, lovely smile.
For more information or to find a provider in your area, visit http://www.SixMonthSmiles.com or connect with us on Facebook – http://www.facebook.com/SixMonthSmile…

 Get a Straighter Smile Faster Than Ever With Six Month Smiles in Owensboro
If Six Month Smiles doesn't quite feel right for you, we also offer other alternatives to traditional metal braces, such as Invisalign invisible braces. Whatever method, our team at Dental Designs of Owensboro is determined to help you get the straight teeth and beautiful smile you've dreamed of. For a perfect smile in just six months, call us today! We serve the Owensboro, Whitesville, and Philpot communities and are waiting to help you!