Come Visit Your Family Dentist in Owensboro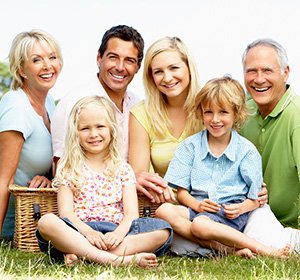 For many adults, especially those with large families, convenience is of utmost importance. You don't have time to see a series of specialists for various procedures in addition to a different primary dentist for every family member to make sure they enjoy good dental health.
We provide a wide range of dental health and family dental care services for every stage of life under one roof. Our amazing team includes three extensively trained, gentle hygienists whose sole goal is to provide excellent dental health for you and your loved ones.
We can see your whole family in one day. With CEREC® same-day crowns, and the option of dental sedation, we can complete more family dentistry services procedures in fewer visits – comfortably.
Children Should See a Family Dentist
Your little ones are always welcome in our office in Owensboro! We recommend bringing your child in for the first time around the age of two to meet our family dentist, to keep their teeth healthy. However, if you have any concerns, we will be happy to see your baby sooner. Virtually any dental health problem that your child may have can be treated right here with our wide range of family dentistry services.
Early experiences can shape a person's outlook on dental health care and oral hygiene for life. Family dentists Drs. David Thompson and Vicki Frey and their superb team make every effort to ensure that your child's visits are not painful, frightening, or uncomfortable in any way. For example:
We have a fun themed kid's day twice a year to get children caught up on oral hygiene and dental health and meet our family dentist and fun, caring team.
We explain hygiene and dental health in terms that kids relate to, like using a song to time brushing their teeth.
You and your child will be treated like family by our family dentist and great team.
Laughing gas is a safe and gentle way to help kids relax and reduce pain sensitivity.
The family dentist occupies children during the injection so that most never even notice!
Family Dentistry Means Quality Dental Health Care for All Ages
We provide family dentistry care, gum disease treatment, restorative dentistry procedures and stunning cosmetic dentistry to meet your dental health and aesthetic needs.
You and your loved ones deserve to enjoy a healthy, perfect smile for life. We will be there for you every step of the way, from filling childhood cavities to stabilizing dentures.
Even more importantly, we maintain a strong focus on patient dental health education and preventive care so fewer children get cavities and fewer mature adults need dentures!
We want to keep every smile in your family beautiful and make sure their dental health is all it can be! We strive to make family dentistry comfortable, convenient, and fun for patients of all ages.
Our office is equipped with the most advanced technology and our family dentist and excellent team are skilled in the latest procedures, enabling us to complete most dental work right here. We work with some of the finest specialists in the industry to ensure the quality of care is not compromised on the rare occasion that we need to refer someone out.
Call us at 270-683-0620 today and schedule an appointment with the family dentists who will treat you like family! Our office is located in Owensboro and families come from all over the area, from Whitesville to Philpot, to be treated by Dr. Thompson and Dr. Frey.