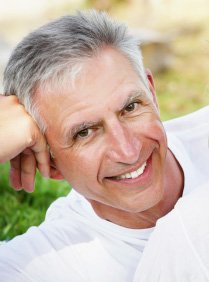 Are you missing your teeth and are embarrassed when you smile? Do you avoid going out in public and are only comfortable with your closest friends and family? Are you looking for a solution that will look nice, feel comfortable and give you back your smile?
Dr. David Thompson and Dr. Vicki Frey have several denture options that we'd like to offer our patients from the Owensboro, Henderson KY and surrounding areas. We will partner with you to make the best denture choice for you.
Traditional Denture Treatment
Traditional dentures are still a viable option for many of our patients. We do our best to give you a smile that will work for you–for your lifestyle and your budget. We will discuss this denture choice with you as one option to choose from.
High-End, Custom Denture Treatment
We offer lovely, high-end custom denture treatment that will give you a lovely smile that you will be proud to show. These are an excellent denture option.
Permanent Dentures
Our favorite denture option is permanent dentures, also known as an implant-supported denture. Permanent dentures are secured with dental implants. Dental implants are small titanium rods placed into your jawbone that fuse with the jawbone to form a "new" tooth root. Permanent dentures that are connected to these dental implants stay in place!
Advantages to Permanent Dentures
Permanent dentures require no messy, sticky adhesive to adhere them to your gums. They are secured to permanent dental implants.
Permanent denture treatment gives you the most freedom to eat the foods you love because they will never slip, click, or fall out. They are solid, sturdy and durable.
Permanent dentures look amazing–just like your natural teeth.
Permanent dentures are wonderfully comfortable. They don't chafe and rub against your gums and fit comfortably against your gums and are secured to the dental implants.
We are ready to discuss denture choices with you at our office in Owensboro near Henderson KY, so call today. We want to get your smiling again!