Find a Cosmetic Dentist in Owensboro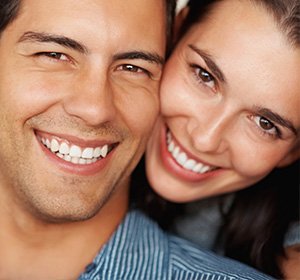 If you want a more perfect smile, cosmetic dentist Dr. Thompson and cosmetic dentist Dr. Frey located in Owensboro may have the solution you are looking for! Each cosmetic dentist and our fabulous, caring, well-trained team offer a variety of cosmetic dentistry services to the Owensboro area ranging from full perfect smile makeovers to repairing chipped teeth with composite bonding.
Cosmetic dentistry is very individual and personal. You are unique, your dental issues are unique, and your vision of the perfect smile is unique. Each cosmetic dentist believes that your treatment should be just as individual as you are. They begin with a consultation and take the time to get to know every patient. They want to learn about your goals and expectations for a perfect smile. After a thorough examination, our cosmetic dentist in Owensboro will explain your options and help you choose the best cosmetic dentistry procedures based on your oral health and cosmetic dentistry goals. We are always happy to work with our patients in the Philpot region's budget and busy schedule.
Our Cosmetic Dentistry Services
SMILE DESIGN | Creating a perfect smile that is "wow" requires cosmetic dentistry that uses a delicate balance of scientific knowledge, and artistic skill, implemented with advanced technology. Each cosmetic dentist at Thompson and Frey Cosmetic and Family Dentistry is known for their attention to detail and phenomenal results.
BONDING | This is a conservative, typically painless cosmetic dentistry procedure used to improve rotations, close spaces, smooth the edges of teeth, mask discoloration, repair chips, and correct irregularities and can give you a perfect smile. A composite material is applied directly to the tooth and then the cosmetic dentist molds and sculpts it to create the optimal shape. It rarely requires an anesthetic.
VENEERS | Veneers are a cosmetic dentistry procedure in which a thin layer of porcelain completely covers the visible portion of the tooth, correcting any cosmetic flaws. Very little enamel, if any, is removed, making this a conservative cosmetic dentistry solution to a variety of problems. Porcelain veneers may be used to change the size, shape, and color of one or more teeth and can create a perfect smile.
COSMETIC FILLINGS | Most patients today prefer aesthetic restorations to help create a perfect smile. Although our cosmetic dentist offers silver fillings, about 90 percent of patients choose tooth-colored composite material. It matches the rest of your tooth, so no one will know you've had dental work.
WHITENING | The most requested smile enhancement procedure in our office is Zoom!!® in-office bleaching. Your teeth can be lightened up to eight shades, in just two hours. And the perfect smile you can get will amaze you!
INLAYS, ONLAYS, AND CROWNS | Teeth that are too badly damaged for fillings can be repaired effectively with a color-matched porcelain restoration and will give you a perfect smile. With CEREC® technology, our cosmetic dentist can often complete these procedures in just one appointment.
Cosmetic dentist Dr. Thompson and cosmetic dentist Dr. Frey find cosmetic work one of the most rewarding aspects of their Owensboro practice. Their favorite step is the last one – when the patient looks in the mirror and they see the delighted surprise and tears of joy. Many people have told the doctors that having a perfect smile has changed their lives!
Call our practice today if you are looking for a cosmetic dentist and are in the Owensboro – Philpot – Whitesville area! Let us make the smile of your dreams a reality!